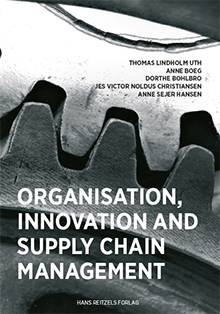 Log ind og læs
Organisation, Innovation and Supply Chain Management
Dorthe Bohlbro, Thomas Lindholm Uth , Anne Sejer Hansen
Forfattere: Dorthe Bohlbro, Thomas Lindholm Uth, Anne Sejer Hansen, Jes Victor Noldus Christiansen , Anne Boeg
Organisation, innovation, and supply chain management er en oversættelse af Organisation, innovation og supply chain management.
Organisation, Innovation and Supply Chain Management is a practical textbook about optimising value creation in companies by working systematically on their organisation and the entire supply chain. Readers learn to make the most of business models, resources, logistics, supply chains and distribution channels, and the theories and models are presented in a practical way to help them apply the principles in their working lives and make a difference in SMEs. The first two chapters deal with innovative approaches to company business models. Chapter 3 concentrates on project management, and Chapter 4 on human resources, with the focus on motivation, teamwork and management. Chapters 5 and 6 deal with value creation throughout the organisation or company's structures and culture. Chapter 7 helps readers gain insight into themselves by working on personal leadership. The idea is that we should have the skills to manage ourselves before we manage others. Chapters 8 and 9 focus on optimising value creation through streamlining logistics and co-operation between companies in the supply chain. Chapter 10 focuses on allocating responsibilities and co-operation within the supply chain and discusses the key role played by procurement. The last three chapters focus on the design of effective distribution channels and on optimising physical and online stores, as well as on interaction between channels in the form of omnichannel retailing.

The distribution channel is covered all the way from the strategic level, which involves the design of the channel based on the target group, to the operational level, which consists of optimising the various sales channels that service end customers. The selection and weighting of topics reflect the learning objectives outlined in the most recent curriculum (autumn 2019) for the subject Organisation and Supply Chain Management during the first two semesters of the Marketing Management study programme. It can also be used in other vocational education programmes that address the upstream and downstream optimization of supply chains.

Til hvert kapitel er der udarbejdet vejledende svar på kapitlets diskussionsspørgsmål, øvelser der sigter mod at læseren forstår kapitlets centrale teorier og modeller samt en større case der bringer teorier og modeller i praktisk anvendelse. Til alle cases er der udarbejdet vejledende løsninger.

Udgivelsesdato

20. august 2019

ISBN

9788741280110

Udgave

1